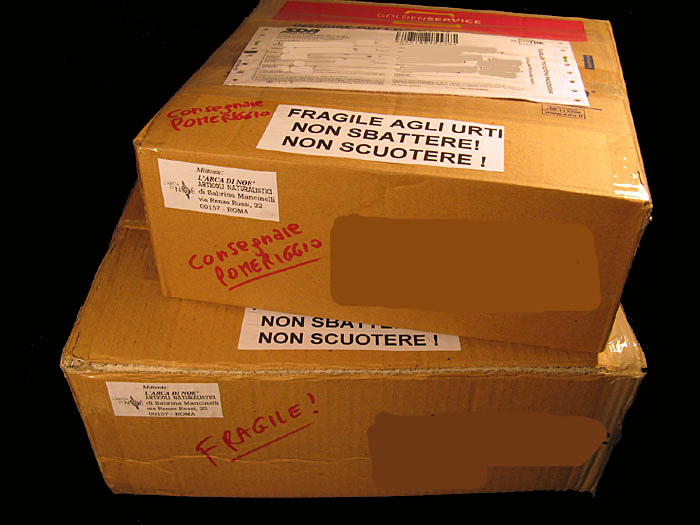 For Italy the dispatches have made by Italian Post and the shipping costs are charged to the customer. Fixed price for Italy is 9,00 € (excepted very small or large packages).

For other Countries the parcel are sent only by registered letter and the prices (up to 2 kg of weight and 90 cm maximum size (lenght + width + height) are:
A) Europe and some Mediterranean Countries (Algeria, Cyprus, Egypt, Jordain, Israel, Jamahirya Libica (Libya), Lebanon, Morocco (Ifni, Dakia, Layoune, Semara), Syria, Tunisia, Turkey):
Euros 11,00 (20 gr - 100 gr)
Euros 13,20 (100 - 250 gr)
Euros 14.70 (250 gr - 350 gr)
Euros 18.90 (350 gr - 1 Kg)
Euros 29.00 (1 Kg - 2 Kg)
B)
Other countries of the world:
Euros 7,60 - 12,40 (20 - 100 gr)
Euros 13,20 - 18,40 (100 gr - 250 gr)
Euros 19.20 - 24.40 (250 gr - 350 gr)
Euros 27.40 - 36.40 (350 gr - 1 Kg)
Euros 40,80 - 51.40 (1 Kg - 2 Kg)
For packages with greater dimensions or weight we'll communicate to you the modality and the cost by e-mail.
PACKAGING.
L'Arca di Noè for shipments use exclusively recycled packaging (boxes and packaging material), with the exception of individual packaging of the kits that we offer in the field "gift ideas".
This choice was made ​​for two important reasons: whereas the packing in the vast majority of cases ends up immediately in dumpsters and often not even the right ones as the law requires, in respect of the environment, we believe most important not to put into circulation new totally unnecessary waste.
Moreover, if we use brand-new packaging will be forced to put them in charge to customers, further burdening on shipping costs, the same that some carriers as SDA periodically increase, citing justifications questionable due to increases in fuel, the cost of living, etc.. so much so that even the islands, Calabria region, mountain passes and remote areas do not have better identified have for us a further additional cost, and yet so far we have always avoided to take into account customers, maintaining, at least until we can be, the costs lower than they actually should compute the purchaser.
Who will give us so that the containers are not to your liking or unprofessional in order to "good presentation", will be kindly invited to make your purchase elsewhere.