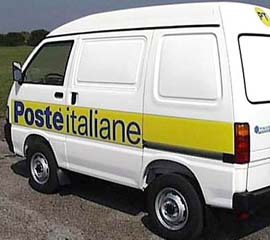 Delivery time changes according to the place of destination (for Italy the goods are delivered in few days after the crediting of the order).
If you are in hurry to receive the requested items (for presents, shows, holidays, etc.), we pray you to very anticipe your orders, also owing to possible delay in the delivery not dependent on our will. The method of payment (see) may have great importance in delivery times, since the delivery of goods and validity of the order according to the notification of payment (no later than 10 days provided).
Eg. we receive the communication of payments on our account on-line made by bank transfer a few days late than the day of payment, and we wait for it to proceed with the shipment of goods. The faster payment methods are: Postepay, Paypal and credit cards, which are communicated to us in near real time.
So as to avoid misunderstandings or petty discussions, we remember you one last time that we don't sell essential goods, and so we aren't able to beat records not interestying for us.
For a better service of delivery, we are in the habit of communicating to client the date of the sending and the postal code of the parcel.

DELAY IN DELIVERY.
"L'Arca di Noè" engages itself to speed up as much as possible the times of delivery, therefore it doesn't consider itself answerable for the damages caused by a possible time-lag during the carriage.